Spring Orchids at Houdek Dunes — Sunday, May 24 at 2:00 pm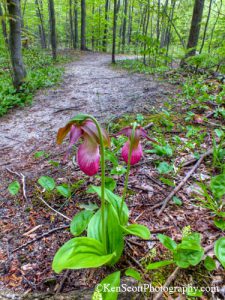 Join docent Ann McInnis at Houdek Dunes Natural Area to view more than 300  hopefully-blooming Pink Lady Slipper orchids and learn about orchid's special features from a guest orchid specialist, Chuck Dickerson of Omena. Hike through several ecological communities to the wetland overlook while discovering the geological features of this 370 acre unique area. Discover  evidence of  the many native Leelanau animals and plants for whom this area is home and with whom we, in Leelanau, coexist.
Please note: Dogs on a leash are welcome at our natural areas, BUT not on docent lead hikes. We apologize for any inconvenience this may cause.