Special Permaculture Tour of Leo Creek Preserve – Sunday, Sept. 17th at 2pm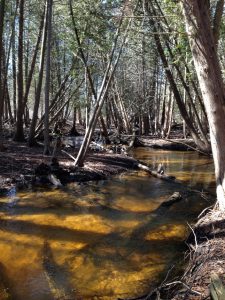 Leo Creek Preserve, unlike other conservation easements is open to the public.  Located along the Leelanau Trail, 9.1-acre property has been developed over the past year into a garden permaculture and outdoor learning center by the non-profit Leo Creek Preserve.  You have an opportunity to explore this hidden gem with Kate Thornhill, President of the Leo Creek Preserve Board, and Conservancy docent Jane Gale.  This hike will begin with the garden area that incorporates more than 90 heritage blueberries into expanding beds of fruits and vegetables followed by a gentle, half-mile hike under a canopy of pine and cedar bordering Leo Creek.  During the walk you will learn about the history and future of Leo Creek Preserve and the impact it is having on the community.  The hike will take one hour.  Park in the Leelanau Trail parking lot off 4th Street in Suttons Bay.  Additional parking is available at the business immediately west of the Trail parking area.  Walk south along the trail to the entrance to Leo Creek Preserve.
An optional workbee will follow for anyone interested in helping to lay landscape fabric and mulch between the blueberries.  Tools and supplies will be provided.