Panoramic Views Hike at Whaleback — Saturday, April 15th at 10am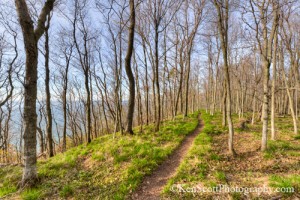 Whaleback Natural Area is glorious from late spring into summer and again when the leaves turn; however, all that foliage means you don't get a good view of the lake.  Hiking right now gives us to the opportunity for great views of the lake and of Fishtown from 300 feet up.
Join docents Beth Chiles, Mary Smart, and Jane Gale for a leisurely paced hike with opportunities to catch your breath on the gradual, but steep ascent to the top.  Once on top of Whaleback, the terrain is more or less flat and fairly easy to traverse and there is a nice viewing platform as well.  The trail is a mile long with a difficulty rating of "moderate".  If you have walking poles you may want to bring them.