Gourmet Garlic Mustard Workbee — Friday, May 8 at 9:00 am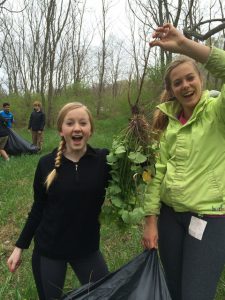 Join the Leelanau Conservancy and Invasive Species Network as we work to remove invasive garlic mustard from the Clay Cliffs Natural Area, then eat it!
 Learn about the fantastic habitats we're working in and why invasives are a threat to our area, work to control invasive garlic mustard, then head inside for a delicious lunch made with garlic mustard removed from local natural areas.  This opportunity is open to anyone capable of working by foot on soft and uneven terrain. Dress for the weather!  We work rain or shine.
 This will be a collaborative Workbee! We will meet at the Leland Library at 9am and then head to Clay Cliffs and spend the morning pulling garlic mustard. Lunch will be provided afterwards at the library for all who volunteer. You can register through the ISN website at http://habitatmatters.org/about/events/.