Finton: A Wildlife Corridor Puzzle Piece — Saturday June 18th 10:00 am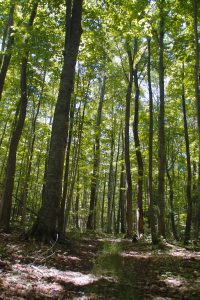 Experience the awe of a majestic second growth, northern hardwood woodlands at this NA tucked in along the shoreline of geologically ancient Lake Nepessing. Discover some of the plants and animals that make this  wildlife community so special. Learn how Finton Natural Area is part of a wildlife corridor from Traverse Bay to Lake Michigan envisioned by the Conservancy to insure wildlife connectivity, and accomplished through their efforts to acquire easements and Natural Areas. Conservancy docents Ann McInnis and Sharon Oriel are excited to share this unique area with you.
This hike meets at the trail head on Northport Point Rd.