Fall Color at Krumwiede Hike — Saturday, October 29th 1:00 pm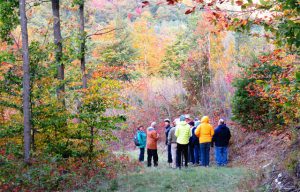 Why do leaves turn colors in the fall? Why do some trees drop their leaves and others hang on to them? Let's find out!
Join docents Sharon Oriel and Lou Ricord at 1pm on October 29th as they take a brisk walk up and down the trail at the Krumwiede Forest Reserve. We'll learn why Wheeler Road is known as Starvation Valley as we enjoy the fall colors and catch views of Good Harbor Bay and the farms on Bohemian Road.
The trail is wide but there is up and down terrain so sturdy footwear is in order, and maybe a walking stick too!