Crystal River Amble- Saturday June, 20 1:00 pm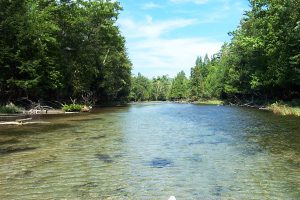 This is your chance to see the Crystal River from the land side. We will walk the Crystal River Natural Area on land protected by the Leelanau Conservancy and then sold to the Sleeping Bear Dunes National Lakeshore. This globally rare dune and swale environment is truly magical. You will see dunes which are 6-12 inches high! The old hemlocks and pines are majestic. We will see where the beavers have been busy and where the otters slide into the river. Docents Sharon Oriel, Lou Riccord, and JoAnne Gerben will lead you over dune and swale!
Parking will be along CR 675 just after you turn of M-22. Wear sturdy walking shoes as we will be walking off trail and on uneven ground at times. Depending on conditions, we could have damp/mucky spots and mosquitoes. If you want to cross over swales (optional) rubber boots or Wellies are advisable. A walking stick might be helpful Too
Please note: Dogs on a leash are welcome at our natural areas, BUT not on docent lead hikes. We apologize for any inconvenience this may cause.