Black Bears in Leelanau: Indoor Docent Program – Saturday, March 21 at 10:00 am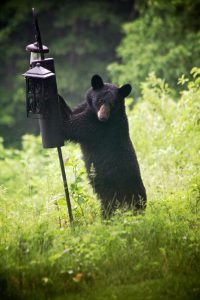 What do you know about Leelanau's black bears?  Soon they will be emerging from their winter lethargy and begin scouting around for mostly a plant-based diet to replenish their depleted energy reserves.  With luck you might spot one on your Leelanau hiking adventures!  At this program you will learn what to do if you encounter a Black Bear.  When frightened, a mother with cubs will just send her babies up a tree and come back later to get them.  Black bears and other northern wildlife species that live in Leelanau remind us what a fabulous, biologically diverse, area we share with those species that were here first.  Learn more about black bears from docent Ann McInnis who will share a power-point program developed by the Wildlife Research Institute in Minnesota.  Meet in the Conservancy Office, in the back community room.
Families with children welcome!