Talk: Bird Monitoring on Gull Island and Leelanau County — April 19th, 6pm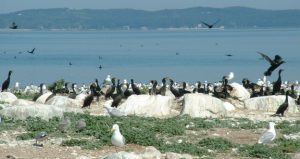 For 48 years Dr. William Scharf has been monitoring the gull, tern and cormorant populations on Bellows Island (Gull Island). He has also worked with the DEQ and the University of Maryland collecting Herring Gull eggs and analyzing them for toxins from Bellow Island.
Dr. Scharf also mistnets (along with Alice Van Zoeren) small birds at the Chippewa Run Natural Area every spring and fall. So far they have caught about 1800 birds, and are just beginning to get "old bird" returns.
Join him for a talk on Tuesday, April 19th at 6pm in the Leelanau Conservancy's Office for a delightful recount of his studies.