Hike and Workbee Details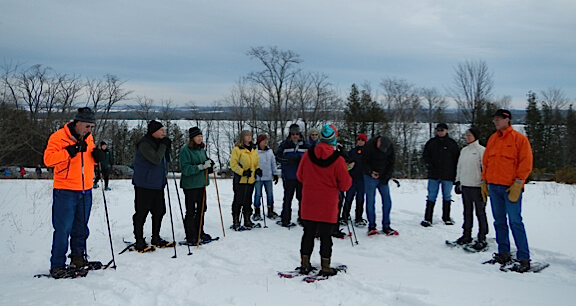 Please note: tick populations have expanded significantly in northern Michigan in the last several years. Please be aware of this and educate yourself about preventative measures. Check out this story from Interlochen Public Radio for more information.
Guided Hikes
Attending one of our Docent-led guided walks is a sure way to get the most out of one of our Natural Areas. Our knowledgeable volunteers will share everything they know about these beautiful places. Please, so that we may plan for the best possible experience, do register in advance by emailing [email protected] or calling our office (231-256-9665).  In some cases, space is limited. You'll find directions to our Natural Areas on each web page, but if you have questions, don't hesitate to call!
Most of our hikes last 1.5 to 2 hours and start by meeting at the trail head. If you are coming along for an evening hike, such as a sunset hike at Whaleback, please bring a flashlight along in case you need it for the walk back down the trail. Do dress according to the weather and potential weather.
Info about TICKS and how to avoid them
Workbees
Workbees are fun and a great way to get exercise and fresh air and meet new people. Workbee activities vary but include trail maintenance, invasive species removal, and structure repair (such as footbridges and stairs). As they are scheduled, workbee locations and tasks will appear in the chronological listing of events below.  Summer 2013 will focus on building new trails at Swanson Preserve and DeYoung Natural Area.
If you have questions about the planned work or want to learn more about upcoming stewardship volunteer opportunities, e-mail Community Engagement Coordinator Claire Wood: [email protected] or call 231-256-9665. Please bring a water bottle, sunscreen and bug spray along to the workbee – as well as your favorite pair of work gloves if you have them. All other tools will be provided.
Directions and a Google Map to all of our Natural Areas and Preserves may be found under each property. Click here to see all our Natural Areas and Preserves.
Info about TICKS and how to avoid them
Dog Policy at Natural Areas and Preserves
You and your dog are welcome to explore our Conservancy trails but please do NOT bring dogs to a scheduled docent-led hike. This will keep your dog safe at home during Conservancy scheduled hikes, and keep hike attendees and wildlife safe too. Our hikes aim to show attendees bird and wildlife that are often scared off by the scent and sounds of dogs. (Service dogs are welcome at any time.) We occasionally offer a special hike that includes pets; when those opportunities are offered, or if you visit on your own, please keep your pet on a leash and pick up waste.