Earth Week 2018
Join us in celebrating and giving back to our special corner of the earth during Leelanau Conservancy's Earth Week! The easiest way to show your support is to make a gift in honor of Earth Day to the Leelanau Conservancy.
Everyone who makes a gift of any amount between April 14 and April 22 will be entered into a drawing to win a $250 gift certificate and other goodies from M22! You can also enter by signing up to receive our weekly e-newsletter here. We will draw three lucky winners on April 30.
We also have a week full of volunteer opportunities, hikes and gatherings celebrating our special corner of the earth and the work we do to protect it. Check out our Earth Week activity list below and to RSVP. You can also call us at (231) 256-9665 if you have any questions or comments.
Leelanau thanks you!
*Update: due to the weather forecast, the Director's Hike and the two workbees have been cancelled and will be rescheduled for a later date. The Hike-it-Baby hike is rescheduled to Monday, April 23rd.
EARTH WEEK EVENTS SCHEDULE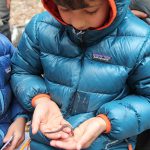 Hike-it-Baby at DeYoung Natural Area
***RESCHEDULED*** Monday, April 23, 10am
Join our Natural Areas and Preserves Manager Becky Hill and her 3-year-old son Ira for a kid-friendly hour-long hike at a pace fit for toddlers and little legs. Parents, partners, grandparents, nannies and friends are all welcome! Meet up at the trail head next to the parking area along the TART trail.
***CANCELLED*** Director's Hike at Teichner Preserve
Tuesday, April 17, 10am
Join Leelanau Conservancy Executive Director Tom Nelson for a hike
at Teichner Preserve. Get to know the Conservancy's Leader, and learn
more about the history of this pristine natural area and how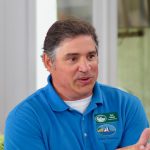 it was protected.
***POSTPONED, NEW DATE TBD*** Trailbuilding Workbee at Whaleback Natural Area
Volunteer with our stewardship staff during Earth Week to help restore areas of the Whaleback trail. Staff will be installing water bars along the beginning sections of the trail to improve erosion control. Expect to use an assortment
of hand tools including Pulaski's, McLeod's, shovels, tamper's, and more.
There may also be some heavy lifting involved. Gloves and boots are encouraged!
Wildflower Rescue Kick-Off Meeting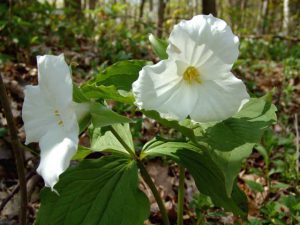 Thursday, April 19, 9:45am, Munnecke Room, Leland Library
Get involved with this great volunteer group that rescues native wildflowers from construction sites. Brian Zimmerman of Four Season Nursery will speak at the first meeting of the year. Digs start April 20th; learn more here. No registration necessary.
***POSTPONED, NEW DATE TBD*** Tree Planting Workbee at Palmer Woods Forest Reserve 
Please join us to plant trees at Palmer Woods! We will focus on planting
in areas that were impacted by the beech and ash salvage harvest that happened this past fall. We will be planting desirable tree species to add diversity to this area, including tulip trees, bur oaks, and shagbark hickory. Please wear weather appropriate outdoor work clothing and sturdy boots.
***RESCHEDULED*** Early Spring Blooms Hike at Clay Cliffs Natural Area
Sunday, May 6th, 2pm 
Honor the Earth with a guided interpretive walk to witness nature's splendid
unfolding of a new season with docents Ann McInnis, Jane Gale, and Beth Chiles. Observe amazing native spring ephemerals (wildflowers) and learn about
pollinators role in ensuring the future of their species. How do nature's systems
connect these plants with the baby animal species and even the fungal kingdom?
and to further honor Earth, we will reuse recycled plastic in a take-home mini-Earth
system for you to nurture and make even more discoveries.
Guided Bike Ride with Bike Leelanau at 45 North Vineyard Trail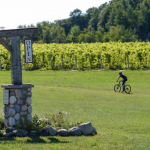 Saturday, April 21, 1-4pm
Leelanau Conservancy and Bike Leelanau are partnering with 45 North Winery to host a family-friendly guided ride on their vineyard trail. Suttons Bay Bikes & Norte will provide free demo mountain bikes, fat bikes, and kids balance bikes to try. Leelanau Children's Center will be there to supervise the kids track. NMMBA and Bike Leelanau will have a skills course and lessons on changing tires available as well. All ages and experience levels are welcome! After your ride, enjoy a glass of wine and some snacks on the patio and don't miss the chance to hear from Executive Director Tom Nelson about the future of mountain biking at Palmer Woods.
Earth Day Celebration featuring The Appleseed Collective
at Tandem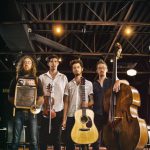 Ciders,
Sunday, April 22, 3-6pm
Join us for a celebration of our special corner of the Earth with
live music from the Appleseed Collective and local hard cider.
No cover, but donations to the Leelanau Conservancy are welcome. This event is family-friendly and no registration is necessary.
BLK MRKT and The Little Fleet to Feature Custom Conservancy-Inspired Drinks in April
In honor of Earth Day, Traverse City hotspots The Little Fleet and BLK MRKT Coffee will each feature a custom drink on their menu in support of the Leelanau Conservancy.
AVAILABLE AT BLK MRKT:
Palmer Woods: cold-brewed Esperanza coffee, walnut and coffee bitters, Shetler's 1/2 and 1/2 infused with raw black walnuts and maple syrup (both harvested in Leelanau County!)
AVAILABLE AT THE LITTLE FLEET:
Houdek Dunes: Mammoth Distilling Co. Whiskey, Sleeping Bear Farms maple syrup, fresh lemon, house-made local rhubarb cordial.
A portion of the proceeds will be donated to the Leelanau Conservancy, and go towards conserving the land, water, and scenic character of Leelanau County. Donor matching will double your contribution! Cheers!
Photos by Maria Garcia Bulkley and Eric Munson.