Earth Week
There's no place like Leelanau. Give back to our special corner of the earth during Leelanau Conservancy's Earth Week (April 20-28)! The easiest way to show your support is to make a gift in honor of Earth Day to the Leelanau Conservancy.
With help from members like you, the Leelanau Conservancy has protected almost 14,000 acres and over 47 miles of streams, rivers, and shoreline. As a member, you help maintain trails for hiking, skiing, and mountain biking. Fresh, local food is available because your donation preserves farmland. You help keep our beaches and waters clean for swimming, boating, fishing and enjoying sunsets. Native plants and animals thrive because your gift protects their natural habitats. You help maintain our precious land and water. There truly is no place like Leelanau.
Now is the perfect time to protect what you love most about Leelanau! We've got an exciting opportunity for new members to double your impact. Gifts from new members will be matched dollar-for-dollar, up to $25,000, through a generous donation by members of the Leelanau Conservancy's Board of Directors. We hope you join us and give back in honor of Earth Day. Leelanau thanks you!
Find your Leelanau adventure. We also have a week full of volunteer opportunities, hikes and gatherings for you to get involved and celebrate Earth Week with us. Check out our events below, and don't forget to RSVP.
EARTH WEEK EVENTS SCHEDULE APRIL 20-28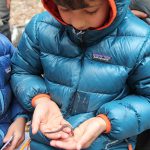 Leo Creek Earth Day Celebration Saturday, April 20 from 1- 4 pm
Explore with your family and learn about the Preserve's unique habitat with a scavenger hunt, live music, and more. No registration required.
Native Tree Planting Workbee at DeYoung Natural Area – Monday, April 22 at 10 am
On Earth Day, volunteer to plant trees with us, the Grand Traverse Band and Conservation Resource Alliance. Park near the barn on the farmstead side of Cherry Bend Rd. Please bring, boots, gloves, and an extra shovel if you have one. Will work rain or shine! Please register below.
Where the Wild Things Grow: Michigan Orchid Talk – Monday, April 22 at 2 pm
Learn about native orchids and our efforts to protect them with Land Steward Emily Douglas and GTRLC's Angie Lucas at the Leland Township Library No registration required.
Aquatic Insect Sampling Workbee – Tuesday, April 23 at 1 pm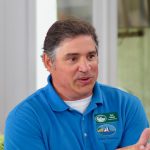 Volunteer to measure stream health by collecting tiny insects called macroinvertebrates at the Mebert Creek Preserve. These creatures can tell us about water quality. We will be splitting up into groups to collect and ID these critters in the field – so bring your rain boots or hip waders if you have them! We will meet in the Veronica Valley parking lot off of S Maple Valley Rd and take a short walk to access Mebert Creek through some cedar thickets. Please register below.
Director's Hike at Kehl Lake Natural Area – Wednesday, April 24 at  10:30 am
Join Executive Director Thomas Nelson on a hike at Kehl Lake, a natural area rich with history and beauty. Get to know our leader and learn about the Conservancy's plans for 2019. Please register below.
Leelanau Native Plants Initiative Program – Thursday, April 25 at Noon
Learn about the decline in birds, pollinators, and other wildlife at the Leelanau Co. Government Center. Find out how you can help through native plantings. Learn more and RSVP.
Hike-it-Baby Story Hour with the Leland Township Library – Friday, April 26 at 10:30 am
Join us for our annual toddler hike with Natural Areas & Preserves Manager Becky Hill and Leland Township Library Program Coordinator Laura Touhey at the Houdek Dunes Natural Area. Special Guest and former Conservancy Executive Director Brian Price will also be there to help read stories about the earth, nature and trees. Meet at the entrance to Houdek at 10:30am and hike with us to the beech tree for Storytime. We'll share a small snack and then families can play or continue hiking. Please register below.
Tree Planting at Palmer Woods Forest Reserve – Friday, April 26 at 1 pm
Please join us to plant trees at Palmer Woods! We will focus on planting
in areas that were impacted by the beech and ash salvage harvest that happened this past fall. We will be planting desirable tree species to add diversity to this area, including tulip trees, bur oaks, and shagbark hickory. Please wear weather appropriate outdoor work clothing and sturdy boots. Please register below.
Northport Energy Solar Tour – Saturday, April 27 from 9:30 am – 3 pm
Tour Leelanau to learn about local solar installations, followed by a film and panel discussion. Registration not required.
Conservancy Yoga at the Old Art Building from 8:30 am – 9:30 am
Join 200 YTT Katherine Palms for a gentle and invigorating class to honor the earth. This is a donation-based class with proceeds going to the Conservancy. All levels welcome. Please register below.
Earth Day Celebration featuring Fauxgrass 
at Tandem Ciders,
Sunday, April 28 from 2 – 5 pm
Join us for a celebration of our special corner of the Earth with
live music from the Fauxgrass Quartet and local hard cider.
No cover, but donations to the Leelanau Conservancy are welcome. This event is family-friendly! Registration appreciated but not required.
BLK MRKT and The Little Fleet to Feature Custom Conservancy-Inspired Drinks in April
In honor of Earth Day, Traverse City hotspots The Little Fleet and BLK\MRKT Coffee will each feature a custom drink on their menu in support of the Leelanau Conservancy. $1 from the sale of every drink will be donated to the Leelanau Conservancy, and every dollar donated will be matched.
AVAILABLE AT BLK\MRKT:
The Houdek Dunes: BLK\MRKT's take on a Masala Chai (served either hot or cold) with beneficial mushrooms and last season's sand cherries, harvested from the lakeshore.
AVAILABLE AT THE LITTLE FLEET:
The Lighthouse West: The Little Fleet's take on a Dark & Stormy made with Iron Fish Rum, Right Brain Brewery CEO Stout syrup, ginger, and lime.
A dollar of your drink purchase goes towards conserving the land, water, and scenic character of Leelanau County. Donor matching will double your contribution! Cheers!
Thanks also to Yen Yoga, who will be offering a donation-based spin class at Yen Yoga for Earth Day on Sunday, April 14th at 11 am.