Lower Barn, ca. 1884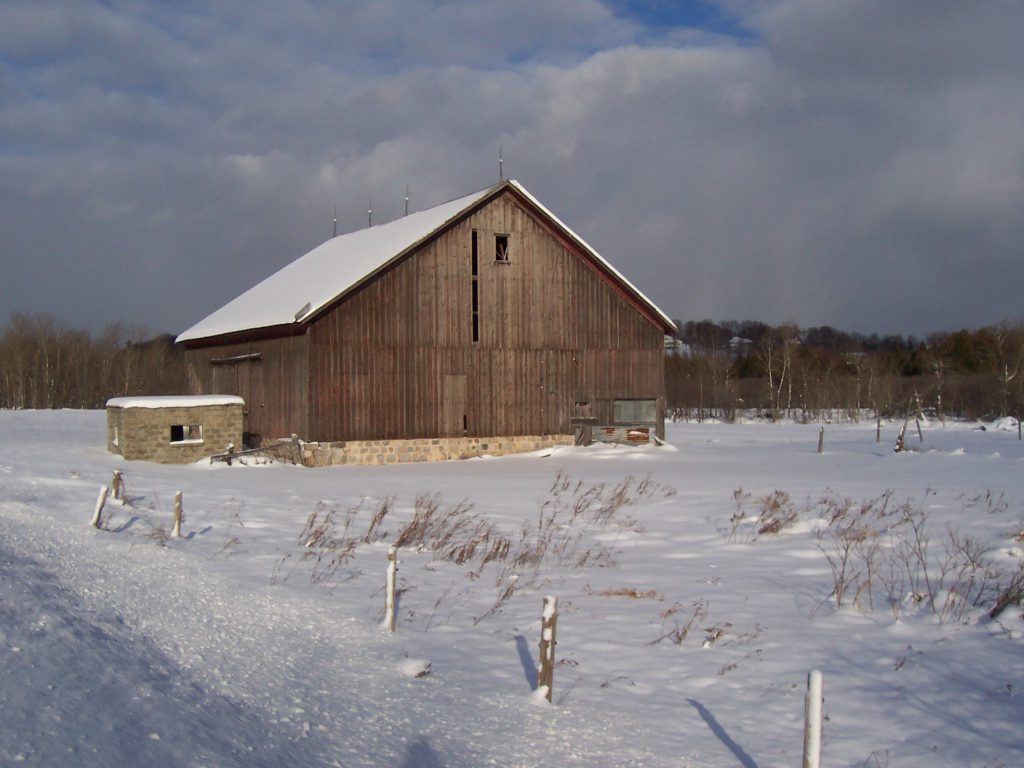 This hay barn is one of two barns on the property and sits east of Cherry Bend Road, close to Cedar Lake, across road from the farmhouse and other outbuildings.This timber-framed English barn has 3 bays. A unique feature of the barn is a weight scale that is located under the wood floor planks in the center bay used by local farmers to weigh their wagons at harvest time. At the northeast elevation of the barn is a silo made of cement blocks.
The barn has a dressed stone foundation. The front of the barn faces the west and has double wood sliding doors in the center of the barn. The flooring in the barn in the center bay is wooden planks. The original wood floor planks on the two side bays have been removed, exposing the original timber supports. These two side bays were also used for the storage of hay with additional space for storage of hay on the second floor. On the first floor at the back or east end of the barn, under the second floor loft, is an area for cows. This area has a cement floor with a long trough to push waste out of the barn. The cows face west when eating and there are metal frames to hold their head. Above is a door that is opened to push hay into the eating area. The walls and ceilings of this area were whitewashed for sanitary reasons.
For the love of this place: Interpreting the Campbell-DeYoung Farmstead is made possible in part by a grant from Michigan Humanities Council, an affiliate of the National Endowment for the Humanities