25 Years: Celebrating Our Living Legacy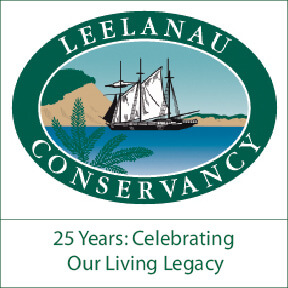 Posted Jan. 2, 2013–Twenty five years ago the Leelanau Conservancy opened its doors with a big dream and a small group of individuals dedicated to the idea that the Leelanau Peninsula is a place that deserved our best efforts to protect its unique landscapes. We believed that with commitment and hard work, we could be successful in harnessing the love that people have for Leelanau into finding ways to protect land forever. Thus the Leelanau Conservancy was born.
Since 1988, the Leelanau Conservancy has been devoted to protecting the land and water that make the Leelanau Peninsula one of the most unique and beautiful areas in the U.S.
Spectacular sand dunes rising from Lake Michigan, pristine inland lakes, towering hardwood forests and landscapes shaped by glaciers all contribute to its unique beauty. Productive farmland, uniquely suited to growing cherries and other fruit, add to the features that make the Leelanau Peninsula a treasured place.
As the winner of the 2012 National Land Trust Excellence Award, the Leelanau Conservancy has earned a reputation as one of the premier land trusts in the country, with projects touching lives and saving land in each of Leelanau's 11 townships. Since our formation in 1988, we have preserved 10,070 acres and 35.4 miles of shoreline/stream and river frontage. Our staff has completed 145 conservation easements, working with families to preserve cherished lands. Harnessing the power of many members and supporters, the Conservancy has the notable record of protecting over $4.00 of land for every $1.00 privately donated.
During our first 25 years, we launched a farmland preservation program, established a renowned water-quality monitoring program and created 22 Natural Areas and Preserves and Forest Reserves for public enjoyment. Some of the best views, most sensitive wetlands, and biggest working farms have been forever protected because of the Leelanau Conservancy. With over 4,000 donors each year backing us up, the Conservancy is making a very real difference in what Leelanau County is to become.
In a column he wrote five years ago for our 20th Anniversary, Executive Director Brian Price tells our story.
We'll be marking our silver anniversary in 2013 with a number of special events and announcements. Visit this frequently to keep up to date on all of our anniversary-related news and announcements!
Here's a 6:44 video slideshow we've made to chronicle our accomplishments over the past 25 years. We hope you like it!
Our Thanks to You
Throughout the year, at all of our hikes, workbees, and other program events, we will be handing out a special, perennial thank you gift, which we hope will be a lasting memento of your participation and of your support of the Conservancy. Curious? Come to one of our upcoming events and see for yourselves!
25th Anniversary Timeline
Click on the link below to read more about all that your Leelanau Conservancy has achieved over the past quarter century, arrayed in chronological order.
Speakers Series
During 2013, we'll be organizing several public events featuring naturalists, land conservation experts, and others.  Click on the link below to learn more! (Under construction – more info to come as it becomes available.)
Why Do You Love Leelanau?
Our "Why Leelanau?" blog was launched in our 20th anniversary year five years ago as a place to share favorite photos and reflections on why you love the Leelanau peninsula. Since that time, over 800 photos and memories have been shared – making it one of our most popular vehicles for sharing everyone's love for Leelanau.
This year, to mark 25 years of the Leelanau Conservancy, we'll be expanding the blog to include reflections from all of you of your favorite memories and moments of Leelanau Love over the past 25 years. So dig out those old family vacation photos, think back on your favorite times and places, and click on the links below to view the Why Leelanau blog and submit your own memories.
Why Leelanau? blog Share your memories!
Our 25th Anniversary Sponsors
Our thanks to Northwestern Bank and Idyll Farms for underwriting the year-long celebration of our 25th Anniversary. We are grateful for their commitment to our mission and their enthusiasm about our reaching this important milestone. Learn more about each of them on our 25th Anniversary Sponsor page or by clicking on the links above.