Speaker Series: Farming & Food: Past, Present, and Future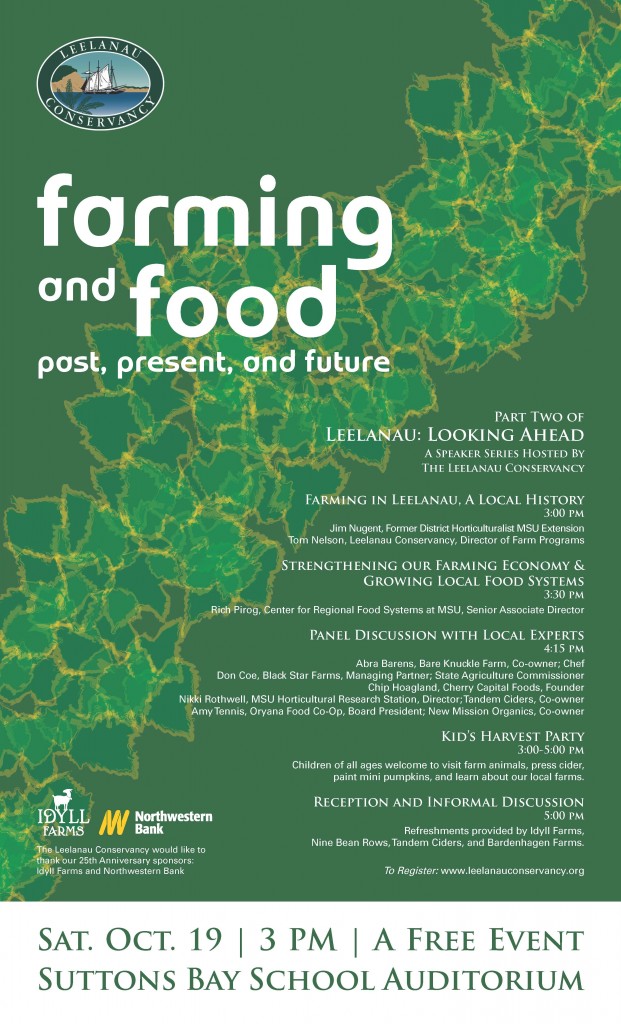 Our second Speaker Series event at the Suttons Bay School Auditorium was a success!  Information about the event will remain here for reference.
Farming and Food: Past, Present, and Future and Kids Harvest Party

"There is no doubt that agriculture is an essential part of Leelanau County's landscape, economy, and cultural heritage.," says Conservancy Director Brian Price.  Fifty-five percent of Leelanau County, roughly 120,000 acres, is zoned for agricultural use.  Agriculture in our county generates over 1,200 full and part time jobs and sales of agricultural products, combined with the processing and distribution, add over $45 million annually to our economy (Leelanau County Agricultural Fact Book, prepared by The Land Information Access Association).
So what was farming in Leelanau County like 100 years ago?  What are the most significant changes our farmers have experienced in recent years?  And what opportunities will carry our farming and food community into a strong future?  Come hear local farmers and food-system experts give their perspectives on farming in Leelanau County and our place amidst state- and country-wide agricultural trends.
Jim Nugent former District Horticulturalist for MSU Extension and Tom Nelson, Leelanau Conservancy Director of Farm Programs, will provide a brief history of agriculture in Leelanau County.  Then keynote speaker Rich Pirog, Senior Associate Director at the Center for Regional Food Systems at Michigan State University, will address state-wide farming trends and the growth of local food networks.
Finally, a panel discussion will feature local farmers, food-system professionals, and land-use experts.  Panelists will discuss the most significant opportunities and biggest challenges in our local agricultural economy today.  They will also describe how they envision the future of farming and food in Leelanau County.
After the speaker program, refreshments will be provided by Idyll Farms, Nine Bean Rows, Tandem Ciders, and Bardenhagen Farms.
Children of all ages are welcome at the Kids Harvest Party (held on site during the speaker event) to visit farm animals, press cider, paint mini pumpkins, and learn about our local farms. The event is free but registration is appreciated for planning purposes. Register and learn more at leelanauconservancy.org or call 231-256-9665.
Time
Event Schedule
3:00 pm
Farming in Leelanau, A Local History
Jim Nugent, Former District Horticulturalist MSU Extension and Tom Nelson, Leelanau Conservancy Director of Farm Programs
 3:30 pm
Strengthening our Farming Economy & Growing Local Food Systems
Rich Pirog, Center for Regional Food Systems at MSU, Senior Associate Director
4:15 pm
Panel Discussion: Bring Your Questions for Local Experts
Abra Barens, Bare Knuckle Farm, Co-owner; Chef
Don Coe, Black Star Farms, Managing Partner; State Agricultural Commissioner
Chip Hoagland, Cherry Capital Foods, Founder
Nikki Rothwell, MSU Horticultural Reserach Station, Director; Tandem Ciders, Co-owner
Amy Tennis, Oryana Food Co-Op, Board President; New Mission Organics, Co-owner
3:00-5:00 pm
Kid's Harvest Party
Children of all ages welcome to visit farm animals, press cider, paint mini pumpkins, and learn about our local farms.
5:00 pm
Reception & Informal Discussion
Enjoy light refreshments and talk with our speakers and panelists in the Suttons Bay School Lobby.
Participant Biographies
Retired as District Horticultural Agent, MSU Extension and Coordinator of the NW Michigan Horticultural Research Station, Jim Nugent has served as a leader in statewide cherry programming. Has co-authored many publications and articles, the most recent being Early 21st Century Cherry Varieties for the Great Lakes & Eastern North America. He serves as Board Chairman, Graceland Fruit Company; is co-owner of Sunblossom Orchards, Suttons Bay; and serves on the Board of Directors of the Leelanau Community Choir.
Tom Nelson, Leelanau Conservancy Director of Farm Programs, focuses on conserving farmland, in addition to working to protect other important landscapes.  Tom acquired his law degree in 1987 and graduated with a Master of Laws in environmental law and policy from Vermont Law School in 2003. His career has taken him to from Ohio to Washington D.C. to Lansing and finally to Leelanau County.
Rich Pirog is senior associate director at the Center for Regional Food Systems at Michigan State University. His work includes developing a statewide food hub network, and providing oversight to new Center work groups. From 1990-2011 he was associate director and program leader for marketing and food systems at the Leopold Center for Sustainable Agriculture in Iowa. At the Leopold Center, Rich Pirog directed the Value Chain Partnerships (VCP) project, an Iowa-based network of food and agriculture working groups that provides technical assistance to farmer-led food businesses. Pirog's research and collaborations on local foods, food networks and communities of practice, food value chains, and ecolabels has been publicized globally, used by local food practitioners, and are often cited. He is consulting and writing publications with the Ford Foundation, Wallace Center, and Kellogg Foundation.
Dr. Nikki Rothwell works as the District Horticultural Educator with Michigan State University Extension and as the Coordinator of the Northwest Michigan Horticultural Research Station.  She has a split appointment between research, administration, and outreach.  She received a B.S. from Western Michigan University in biology and chemistry and went on to receive a M.S. from Michigan State University and a Ph.D. from the University of Massachusetts-Amherst, both in entomology.  Currently, she works with cherry, apple, and winegrape growers in northwest Michigan where she conducts applied research and outreach programming based on local and statewide needs.  Her research interests include tree fruit training and irrigation systems, pest management strategies, and horticultural modernization.
During his long career with Hiram Walker, Don Coe was responsible for marketing and sales of wines and spirits in various markets worldwide.  He is Managing Partner at Black Star Farms in Suttons Bay and Old Mission with wineries, tasting rooms, distillery, inn and café – premier agricultural destinations.  Coe sits on the Michigan Commission of Agriculture and Rural Development, and serves as Chair of the Traverse Bay Economic Development Corporation.
Chip Hoagland is the owner and visionary behind Cherry Capital Foods, a local food distribution business.  He also serves on the board of the Michigan Land Use Institute and on the Finance Committee of the Grand Traverse Regional Community Foundation.  Chip has more than 30 years of experience in investment management and he is dedicated to smart land-use policies and building an local food economy.
Abra Berens strives to make simple, delicious food.  She believes that the meals we eat should change with the seasons and that their ingredients should come from nearby– most often from Bare Knuckle Farm.  She chooses sustainably-grown fruits and vegetables and responsibly-farmed animals to create rustic and purposeful plates.  Abra grew up amongst the agrarian culture of western Michigan, developing a deep respect for the relationship between the land and the people who care for it. After studying at the University of Michigan, Abra moved on to train under Darina Allen at the Ballymaloe Cookery School, located in the middle of its own 100-acre organic farm in County Cork, Ireland.  The school's commitment to supplying its own highest-quality ingredients, as well as its beautiful pastoral setting, helped shape Abra's own approach to food and cooking.  Since leaving Ballymaloe, Abra has found herself working and learning under a slew of notable chefs, including Skye Gyngell of Petersham Nurseries in Richmond, England; Roger Bowser of Zingerman's Delicatessen in Ann Arbor, Michigan; Sandra Holl of Floriole Bakery; and, most recently, Paul Virant of Vie Restaurant in Western Springs, Illinois.
Born and raised on a small farm near Ada, Michigan, Amy Tennis holds an undergraduate business degree from Davenport University and a MBA from Grand Valley State University.  During the workweek, Amy is the Director of Compensation, Benefits and HRIS at Munson Medical Center.  On weekends and evenings, she is co-owner with her husband Brian of New Mission Organics, a 30 acre MAEAP verified, certified organic farm in Omena growing 9 varieties of hops, along with grapes, apples, and cherries.  Brian and Amy are the founding members of the Michigan Hop Alliance, a "hop co-op" that was formed to assist other hop growers in need of farming information, access to processing equipment, marketing and sales all in an effort to make Michigan the primary source of hops for the 130+ Michigan breweries.  In her spare time, Amy is the President of the Board of Directors at Oryana Natural Foods Market.
Our sincere thanks go to our 25th Anniversary Sponsors, Northwestern Bank and Idyll Farms, whose support has made this event possible.