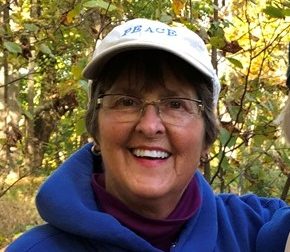 Lianne Somerville – Director
Lianne is grateful to a longtime friend and fellow Sustainer for inviting her to Leelanau County for annual summer visits.    It seemed natural to leave her career days behind in Indianapolis to move to Bingham Township in 2010.  After extensive travel, she is grounded now in our beautiful county and contributing her time, expertise and passion to the Conservancy's mission.
In Indianapolis, Lianne was a retail store owner, the director of youth development at the Indiana Youth Institute, and the Executive Director of Coburn Place Safe Haven (a supportive housing program for female domestic violence victims and their children).  Through her work, Lianne wore the hats of fundraiser, planner, spokesperson, manager, trainer, bookkeeper and cheerleader.    She also served on several boards:  Junior League of Indianapolis, the International Center, Step-Up (an AIDS education organization), and her condo association.
Lianne balances her Conservancy activities with part-time work at Fifth Third Bank in Suttons Bay and fun times with new friends.  She has NO regrets about leaving city life behind for the calmer pace of village and rural living.
email: lianne0207@gmail.com