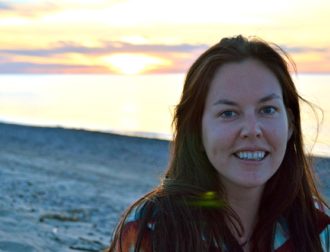 Claire Wood
Community Engagement Coordinator
231-256-9665
cwood@leelanauconservancy.org
Claire Wood, Community Engagement Coordinator joined our staff in January 2017. Claire will be serving as the volunteer coordinator, as well as being responsible for improving existing and creating new engagement initiatives in stewardship, communications, fund development and other program areas.  She is a graduate of Michigan State University, where she majored in Political Science and French. She studied at the Sorbonne in Paris her sophomore year of college.
Claire's most recent professional experience was as Program Coordinator for the Traverse City-based nonprofit FLOW (For Love of Water), where she managed FLOW's communications, including its website, social media and email marketing.  Her experience also includes legal advocacy work at a social services nonprofit, editorial project management at McGraw-Hill Publishing in Chicago, and two terms as an AmeriCorps volunteer with several northern Michigan conservation nonprofits. As to the latter, Claire worked with Trout Unlimited and the Au Sable River Watershed Committee on river restoration and invasive species management projects, and was responsible for communications, outreach, environmental education, and event planning efforts at Huron Pines. She served on the Michigan Community Service Commission's LeaderCorps panel to improve and expand national service. Throughout her AmeriCorps service, Claire continued to work as a freelance editor and project manager with McGraw-Hill and wrote for several northeast Michigan newspapers.
Claire grew up in Lansing and has lived in northern Michigan for about four years. She has loved Leelanau ever since childhood, when she camped at the Sleeping Bear Dunes or the Manitou Islands with her family each summer. In her free time, Claire loves spending time outdoors rock hunting, hiking, skiing, kayaking, and paddle-boarding.