Clay Cliffs Natural Area Fund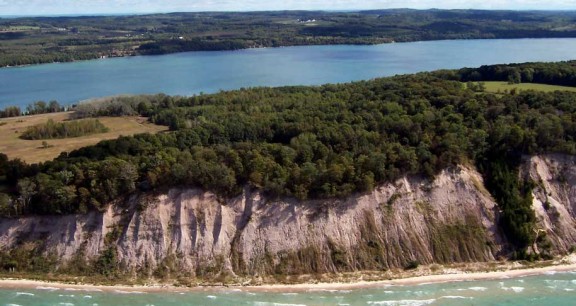 The Conservancy is working in partnership with Leland Township to purchase a spectacular piece of property two miles north of the village known as the "Clay Cliffs." The 104.5-acre property is sandwiched between Lake Leelanau and Lake Michigan. It features sweeping views of both lakes, and 1,700 feet of frontage on each lake. In addition to the natural shoreline on two lakes, it is one of the most gorgeous and prolific wildflower sites in Leelanau County. Plans call for trails and quiet recreation.
This property is the largest and most diverse remaining privately owned coastal property on the mainland of Leelanau County. High ridges offer views of Lake Leelanau and the Lake Michigan frontage is made up of sheer, clay bluffs that provide a magnificent view of the Manitou Passage. Cleared hayfields, open meadows and a northern hardwood forest that borders the clay cliffs makes up the interior. Steep slopes, hidden valleys and a delicate wetland ecosystem provide a diverse habitat for wildlife, including a pair of nesting eagles. All in all, this is a GREAT opportunity to protect one of Leelanau's last remaining Jewels.
Leelanau Enterprise Praises Clay Cliffs Project
Click here to make a secure online donation.
Related Articles